Air Brush Tattoos & Face Painting
Make your next company picnic, birthday, graduation, retirement party, family gathering, festival or event even more FUN - Add Airbrush Temporary Tattoos.
2 Hours of Airbrush Tattoos
Includes a HUGE selection of cool designs, professional set-up and an artist.
Realistic and PAINLESS temporary body art!
Call or Text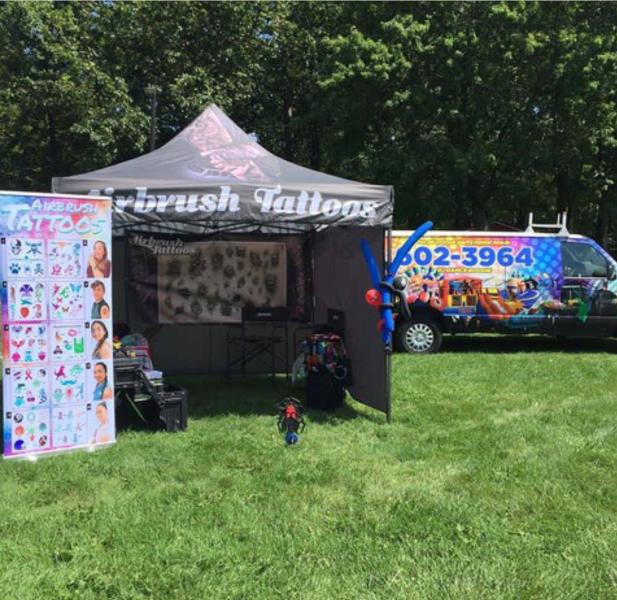 Airbrush Temporary Tattoos are a fun and safe way to impress all of your guests.
People of ALL ages love the excitement of getting a tattoo without having to worry for one second about the commitment or pain involved with a permanent tattoo.
You will love the fact that they will be talking about your party for months to come!
Frequently Asked Questions
Are your tattoos temporary? If so, how temporary are they?
YES! Of course, we only use temporary body paint and so your tattoo will not be permanent. Fantasy Designs tattoos will last anywhere from 24hrs to 5 days! It all depends on how well you take care of them. You can prolong the life of your tattoo by applying baby powder to it after you shower. You can also remove it immediately by rubbing it with isopropyl alcohol and washing it with soapy water.
Does it hurt to get an airbrush tattoo?
No! Its a bit cold but no, it does not hurt at all!
Is your ink safe for anyone?
Absolutely! We use FDA approved body ink made right here in the United States. It is hypoallergenic in nature and we have not ever had one incident where there was a reaction to our tattoos. Material Data Safety Sheets are available upon request at all of our events. Our ink has a 100% safety record, tried and true! It's perfect for anyone at any age!
Do you only perform your tattoo services in the Buffalo area?
NO! We will gladly travel to any venue that our services are invited to! We base our fees on mileage and the number of artists you require. Fantasy Designs served clients all over the Travis & WNY Counties.
What is the minimum time frame for an event?
If you are in the immediate Buffalo area, our minimum requirement is one hour. We will gladly discuss any event scenario with you and recommend to you what we think would be perfect for your budget and the guests at your event.
How many tattoos can you apply in one hour? How are they applied?
Most of the time, one Fantasy Designs artist can apply between 20-30 tattoos in 60 minutes, depending on size and level of detail. Whole sleeves are available but take an average of 30 minutes per sleeve.
What kind of tattoos are available?
We prefer to stick to the tattoos that are available on our displays. We have several hundreds to choose from. You can get anything from butterflies, bugs, bears and fairies to tribal bands, crosses, skulls, daggers. We really do have something for everyone at our events!
We Handle:
Corporate Functions
Non Profit Functions
Fall Festivals
Proms
Homecomings
Reunions
Kids Parties
Birthday Bounce House Parties
Celebrations
Children's Birthday Parties
Christenings
Christmas Parties
Church Services
Community Events
Conventions
Country Clubs
Festivals
Fund Raisers
Graduation Parties
Grand Openings
Car Dealerships
Picnics
Company Picnics
Private Parties
Sweet Sixteen Parties
Reunions
Baby Showers
First Birthdays
Temples
Church Bazaars
Church Festival Ideas
Church Festival Games
Church Bazaar Ideas
School Event Games
Planning
Christmas Parties
Halloween
Birthdays
Winter Parties
Spring Parties
Field Days
Are you planning a birthday party, fund raiser, charity event or a company picnic? Consider renting a Bounce House! They are a safe, fun and cost effective way to offer entertainment to children (and adults!) for practically any type of event or gathering.
We also provide DJ services, After Prom Interactive games and more!
Professional Face Painting and Body Art
Our Buffalo, NY face painters will create "cheek art" on your face, arms or hands. The little ones get just as big of a thrill watching as they do the final product! Adults and teens love it, too! Our face painters do real wearable art, with small designs or elaborate full faces. Perfect for an adult Mardi Gras party or any children's event!
Kids LOVE showing off their cool glitter tattoos at parties and events. Ask for glitter tattoos when you book a face painter! Great for both boy and girl birthday parties. Choose from a huge variety of designs!
Glitter Tattoos are great for Birthday Parties, Holiday Parties, Costume Parties, Baby & Bridal Showers, Wedding Receptions, School, Charity & Fundraising Events, Corporate Events, Grand Openings, Open Houses, and more! Face painting is great for everyone, and adults always love to join in the fun!
We quote all company and large events individually to make sure we offer you the best service for your event.
Call now to reserve your event! Weekends book very quickly!
Call us at (716) 602-3964 to book today!